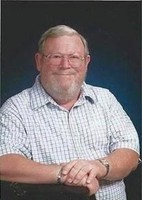 Robert Earl Mousner, 67, of College Station, died at St. Joseph's Regional Hospital on June 27, 2013. Bob's life was celebrated with visitation on June 30 from 5:00 to 7:00 p.m. at Memorial Funeral Chapel in Bryan. Funeral service was held at 11:00 a.m. on July 1 at St. Joseph Catholic Church. followed by internment at Mt. Calvary Cemetery.
Bob was born August 11, 1945, in Bryan, Texas, to Leonard and Katherine Kuyawa Mousner. He was a loving husband, father, grandfather, and friend. He will be missed by numerous family and friends.
Bob loved growing up in his neighborhood on Eagle Pass in Bryan. He had friends who rode bicycles and roamed everywhere, looking for their next adventure. Bob had a passion for education and was a voracious reader of books on any subject. He was an avid sportsman and especially enjoyed hunting and fishing.
Robert graduated with the Class of 1963 from Stephen F. Austin High School in Bryan. He was a member of the Corps of Cadets, Squadron 15, at Texas A&M University, where he graduated with a B.B.A. in Finance in 1967. After college he was hired by the Texas Comptroller's Office as a sales tax enforcement officer and retired in 1999 from the Bryan office. Bob and his wife traveled across the USA and enjoyed cruises as often as possible.
He is preceded in death by his father.
Survivors include his wife Lydia Luza Mousner; mother Katherine Mousner; mother-in-law Lydia Fojtik Luza; sons Chad and wife Crystal McCartney of Cypress, Brandon and wife Amanda McCartney of Bryan, Dusty and wife Amanda McCartney of Houston; grandchildren Andrew, Tyler, Ashlyn, Katie, Tanner, and Easton McCartney; brother Richard Mousner of Navasota; sisters-in-law Sandra and husband Roy Bragg of New Braunfels, Pam McConal of Bryan; brothers-in-law Charles and wife Elain Luza of Bryan, Robert and wife Patty Luza of Burton, Tim and wife Becky Luza of Bryan, and Emil and wife Lori Luza of Austin, Cynthia Mousner of Bryan; his aunt, Gertrude Forman, as well as numerous other family members and friends.
Remembrances may be made to Mt. Calvary Cemetery or the charity of your choice.