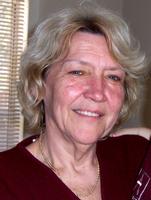 Norma Lee (Duewall) Goodman
December 6, 1944—March 18, 2019
Norma Lee Goodman, 74, of Bryan, passed away in Spring, Texas, after succumbing to illness.
Norma was born in San Marcos, Texas, on December 6, 1944, to Harvey Lee Duewall and Bessie Lee Frieda. Norma lived in Bryan most of her life, attending school at Crockett Elementary and graduating from Stephen F. Austin High School in 1963. She shared many beloved memories of visiting her grandparents on their farms in Caldwell, but some of her favorite memories are from the time she lived in Tripoli, Africa and Zaragoza, Spain. Norma's father was in the Air Force, so she and her family moved around a lot during her teens. She was proud of her many family members who served across all branches of the military.
Norma has called Bryan home since the early 60s. A retired bookkeeper for Bryan Construction Company and Varisco Estates, Norma often worked several jobs to support her three children and their many activities. Even with her busy work schedule, Norma managed to attend every sporting event, concert, or award ceremony her children and grandchildren participated in. She volunteered as secretary for Little League and youth bowling leagues for many years. She also had an active role in the creation of Bonham Little League in north Bryan, benefiting the children living in the area. Norma's house was always open to those who needed a place to stay or something to eat, never asking for anything in return. She was a champion for those who were down on their luck and was very protective of everyone she loved. Norma's love for her children was fierce; the only thing she loved more were her grandchildren. She was a proud Maw-Maw, bragging about her kiddos every chance she got. Norma was a selfless soul who always put others before herself. She touched many lives, and her passing has ripped a hole in the heart of everyone who loved her. She will be greatly missed and never forgotten.
Norma was preceded in death by her parents and former husband, Shelby Goodman, Sr. She is survived by daughters, Rhonda Mahle and husband, Terry; and Shelly Lundberg and husband, Jarrod, all of Spring; son, Shelby Goodman of Bryan; granddaughters Lauren Trejo and husband, Amos, of Bryan; Morgan Ramirez and husband, Joshua, of Spring; and Peyton Lundberg of Spring; grandsons Steven Mahle and wife, Brittany, of Colorado Springs; Brawley Goodman of Bryan; and Jordan Mahle of Spring; great-granddaughter Maddie Trejo of Bryan; great-grandsons Jackson and Grayson Mahle of Colorado Springs; and Ian Ramirez of Spring; sister, Helen Cummings and husband, Terry, of Greenville, South Carolina; and brother, Robert Duewall and wife, Merrill, of Colorado Springs; nieces Cheri Grossman and husband, Daryl, of Las Vegas; and Jenny Mendenhall and husband, Chris, of Colorado Springs; nephew George Hamann and wife, Trish, of Phoenix; and many cousins, great-nieces, and great-nephews.
A graveside viewing will begin at 9:30 a.m. at Smetana Cemetery with a graveside service following at 10:30 a.m. on Tuesday, March 26, 2019. In lieu of flowers, please donate in her memory to Wounded Warriors, or another charity of your choice.