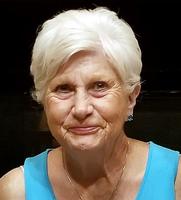 Jessie Faye Glover Sabo, December 23, 1944—May 9 2020
Jessie Faye Glover Sabo of Easterly, Texas, affectionately known as "Memaw," passed away peacefully in Bryan, Texas, on May 9th, 2020, surrounded by her loving family.
Jessie was born in Elgin, Texas, the third child of Jessie Willard and Hattie Louise Lehman Glover. Upon graduation from Stephen F. Austin High School in Bryan, she married Phillip Jordon Sabo and moved to San Antonio where she worked from the San Antonio Express News for a number of years, followed by a 30-year distinguished career with Southwestern Bell/AT&T. She lived in the Dallas area until she retired from AT&T and moved to Easterly where she thoroughly enjoyed her country home.
She was a woman of profound faith, integrity, and compassion. Jessie knew the value of a dollar, hard work, sacrifice, and the love of family. She enjoyed listening to music, dancing, fishing, reading, Texas Rangers baseball, the Dallas Cowboys, and she loved her Aggies! Most of all, she enjoyed spending time with her children and grandchildren.
Jessie was predeceased in death by her parents, Phil Sabo, son Phillip Eugene Sabo, sister Lottie Louise Bond, and nephew Errol Burt Picone.
She is survived by her daughter Phyllis Sabo of Wheelock, daughter-in-law Evelyn Sabo of Georgetown, grandchildren Phillip Eugene Sabo II of Bryan, Jessica Sabo of Alvarado, Nathan Sabo of Georgetown, Nicholas Taylor of Beeville, Johnathan James of Wheelock, Jordan and Dustin Holifield of Bryan, stepdaughter Maxine Dean of Clute, great granddaughters Haven Gallegos of Granbury and Luna Leza of Alvarado, brother Larry Glover of Bryan, sisters Elda Clare of Madisonville, and Margaret Glover of Austin.
Visitation is scheduled for Friday, May 15th from 5:00—7:00 p.m. at Memorial Funeral Chapel in Bryan. The funeral service will be at Memorial Funeral Chapel on Saturday, May 16, at 1:00 p.m. Guests are invited to livestream the funeral service at www.facebook.com/MemorialBryan. Interment will follow at Wheelock Cemetery.
In lieu of flowers, memorial contributions may be made to the American Cancer Society.