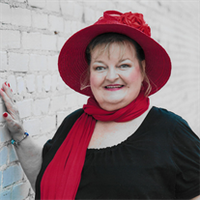 June Allison Harrison (1945—2017)
June Harrison of Bartlesville, OK, died Saturday, April 29, 2017, in Bartlesville, after 71 years of faithful, fulfilling life for her Lord and Savior Jesus Christ.
June Allison Harrison was born in Nevada City, CA, on August 23, 1945, to Elkanah Raeborn and Magdeline LaVern (Furr) Stoddard. Her father died when she was only nine, and the family moved to Bryan, TX, to live with her father's mother before moving again when she was 16 to Oakridge, TN, to be closer to her mother's family. After graduating from Oakridge High in 1962, June went on to Brigham Young University in Provo, UT, to study music. She married Joseph Marshall Stephenson in 1965, and they raised three daughters and a son in Layton, UT. June went back to school when she was 38 to study to be a paralegal. She worked for local law firms before starting her 14-year career with the state of Utah and finally retiring in 1998. In 2004, she moved to Bartlesville.
June was a wonderful mother and doting grandmother. She claimed her children's and grandchildren's friends as her own and was known by all as Mom or Grammy. She loved caring for her grandkids in retirement. She was an avid reader, and her passions included music, singing, QVC shopping, and art. She loved making jewelry and had her own boutique to sell her creations. June also excelled at homemaking and enjoyed sewing and quilting. June was known as the best cook and candy maker, particularly for her famous Christmas candy. She loved the Lord her Savior, faithfully serving Him in the church on earth, and she will be singing His praises in Heaven.
June is survived by her children James Cleon Stephenson and Camille of West Jordan, UT; Lauren Leanne and Robert Neal of Bartlesville, OK; and Nikki Marchele Humphrey of Bartlesville, OK; 13 grandchildren (Kearston, Nana, Chelsea, John, Lillian, Nicole, Heather, Austin, Karlee, Braden, Joseph, Thomas, Colby); six great-grandchildren (Willow, Arley, Juniper, Zachary, Zoey, Snow); and a host of other family and friends. She is also survived by her beloved Chihuahua Chico. She was preceded in death by her parents; three sisters, Lillian Ficarra, Ellen Rassmassen, and Allyson Smith; and her daughter Wendy Lynn Humphrey.
June's family received friends at the Davis Family Funeral Home, 113 S. Osage (Hwy. 75), Dewey, on Thursday, May 4. Visitation was held on Thursday from 10-8.
Funeral services were held at 10 a.m. on Friday, May 5, at the Church of Jesus Christ of Latter-Day Saints, Brother Guy Lewis officiating. Interment followed in the White Rose Cemetery. Services were under the direction of Carter Davis and the Davis Family Funeral Home. Online condolences and remembrances may be shared with June's family at www.DavisFamilyFuneralHome.com.