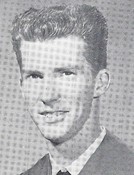 Larry Leonard Whitener, Senior, 62, was born on November 3, 1943, and passed away on October 22, 2006, in Huntsville.
Survivors include his wife, Sandra Whitener of Huntsville; a daughter and son-in-law, Christine and John Burnett; a son and daughter-in-law, Larry Jr. and Susan Whitener; a daughter and son-in-law, LaVaughn and Robert Taylor; a brother and sister-in-law, Morris Dean and Janette Whitener; and seven grandchildren.
He was the owner of Whitener Transfer & Storage. He also worked for the City of Huntsville and the state Department of Transportation for many years.