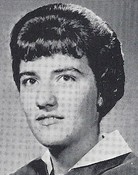 Marlana Welch, of Bryan TX, was born on December 12, 1944, and passed away on August 4, 2013, at the age of 68 at St. Joseph Manor Nursing Home. Marlana was was a barrel racer in her youth. She graduated from Sam Houston State University in 1965 and taught school in LaGrange and later in Klein School District. She was also an athletic coach.
Marlana had a tragic automobile accident in 1987 and since then had lived in area nursing homes, where she made many friends, including residents and staff.
She is preceded in death by her parents, Jessie Jasper "Jay" Welch and Madeline Gandy Welch. Survivors include brothers and sisters-in-law, Russ and Sharon Welch, Rickey and Sue Welch; and numerous nieces and nephews.