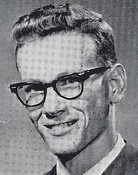 James (Jim) Melville Ward, Sr., 65, of Bryan, passed away peacefully at home on November 23, 2010.
Jim was born in Dallas on September 7, 1945, to John K. Ward, Sr., and Mary Elizabeth (Ward) McCulley. Jim earned his Bachelors Degree in Commercial Art & Photography from Sam Houston State University, where he met Jimmie Carol (Bo) Minter, his future wife. Jim and Bo were married on December 18, 1965. Jim served in the U.S. Navy from 1968 to 1971. He went on to earn his Masters Degree in Education Technology from Texas A&M University. Jim retired in 2007 as a communications specialist from Texas A&M Agricultural Experiment Station after 40 years of service.
Jim was a loving husband, father, and grandfather. He loved life and the Lord, who gave him his joy and steadfast strength. After his retirement, Jim enjoyed spoiling his grandchildren, working in the yard, and walking his beloved dog, Susanna, in the park by his home.
Jim is preceded in death by his parents, his step-father, William (Bill) McCulley, and his step-brother, Mike McCulley.
Jim is survived by Bo, his wife of almost 45 years; his son James (Jimbo) M. Ward, Jr., and his wife, Tamra, of Waco; son Jeffrey Ward and his wife, Barb, of Fort Worth; his grandchildren Hunter Ward, Tabitha Ward, Matthew Dennis, Stephanie Luke, David Luke, Nathen Colberg, and Jackson Ward; his brother John K. Ward, Jr., and his wife, Jan, of Lake Jackson; his sister Julie Harrell and her husband, Skip, of Albuquerque, New Mexico; step-sister Julie McCulley Linnstaedter and her husband, Jerry; step-brother Eddie McCulley and his wife, Sherry, of Wichita, Kansas; his sister-in-law Darlene McCulley of Maize, Kansas; as well as numerous nieces and nephews.
Jim lived his life by putting others before himself. He was an example of humble strength and humility, which he knew could be bestowed only by God, his heavenly father.