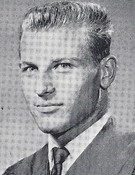 Douglas Edward Varn: September 30, 1944--July 14, 2009

Douglas Varn, 64, of Greenville, South Carolina, passed away on July 14, 2009 at his home. Born in Charleston, he was the son of Blanche Styles Varn and the late Benjamin Franklin Varn. Mr. Varn was retired from the U.S. Army and served as a Green Beret during the Vietnam War. He attended Faith Temple Church. He is survived by a son: Alexander Varn; brothers: Benny Varn, Dewey Varn, and George Varn; and sister: Joan Varn.
He is buried in the M.J. "Dolly" Cooper Veterans Cemetery in Anderson, South Carolina.