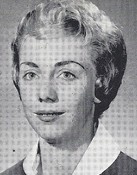 October 16, 1945—November 13, 2009
Frances Bernice Thomsen Wade, 64, of Matagorda, Texas, passed away on November 13, 2009, and was buried in the Bryan City Cemetery on November 17.
Frances was born October 16, 1945, in Bryan to Theodore and Deasie (Vance) Thomsen. She went to be with the angels on November 13, 2009, at her residence in Richmond after a courageous battle with cancer. She is preceded in death by her parents.
Frances is survived by her husband of 18 years, Max E. Wade; her son, Shae Cloonan and wife, Jennifer; daughter, Shela Leavings and husband, Ken; step-daughters, Melissa L. Orr, Fern Pickle, and Sally Ann Looper; step-son, William S. Wade; grandchildren, Justin Cloonan, Aaron Cloonan, Caleb Leavings, Jay Hardy, Brittany Welch, Heather Thawsh, Kristin Byde, Austin Wade, and Zachery Wade; along with numerous great-grandchildren and other loving family and friends.