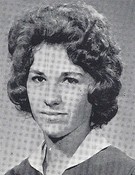 Barbara Jean Scambray Greer, 60, was born on July 25, 1945, and passed away on October 5, 2005, at St. Joseph Manor in Bryan. Graveside services were held on October 8 at Bryan City Cemetery, with the Reverend Ramiro Castillo of Southern Oaks Baptist Church officiating.
A lifelong resident of Brazos County and a 1963 graduate of Stephen F. Austin High School, she was a longtime receptionist for Dr. E.L. Payne before her retirement.
Survivors include two daughters and sons-in-law, Audrey and Robert Green of Alvarado and Paula and James Luther of Russellville, Arkansas; two brothers and sisters-in-law, James and Mary Jo Scambray and Vince and Kathy Scambray, all of Bryan; two sisters and a brother-in-law, Frances and Bill Willis of Bryan and Charlotte Scambray of Brenham; her stepmother Ruby Scambray of Brenham; and four grandchildren.