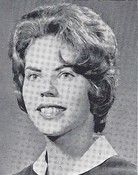 Joyce Stanton Rutherford Mertel: May 31, 1945—December 10, 2015.
Joyce Rutherford Mertel, 70, of Franklin, Texas, was born in Coral Gables, Florida, on May 31, 1945, and went to be with her Lord Jesus Christ on Thursday, December 10, 2015. She was preceded in death by her husband of 36 years, Jim Mertel; also, by her mother, father, one sister, and one brother.
After graduating from Stephen F. Austin High School, Bryan, in 1963, Joyce remained in Bryan and worked in the medical field. After her marriage, she and her husband moved to Florida and later to Houston. After Jim passed away, Joyce became ill and was unable to work, during which time she relocated to Franklin.
Although Joyce had no family members left to mourn her passing, she had a great number of friends in both Houston and Franklin. A very special friend of hers, Rex Rhodes, loved her dearly and took very good care of her for a number of years during her illness.
Joyce was a member of the Henry Prairie Baptist Church in Franklin. Arrangements are entrusted to Memorial Funeral Home of Hearne, and burial will be at Henry Prairie cemetery, next to the church that she loved so much, on Friday, December 18, at 2:00 p.m.