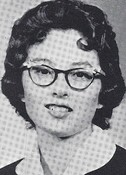 Glenda Judy Rice Fling, 58, of Bryan, was born on October 2, 1945, and passed away on December 23, 2003, in St. Joseph Regional Health Care Center. Glenda was born into a loving Christian home on October 2, 1945, in Navasota, to Rhodes and Joyce Rice, who taught her to love the Lord from a very young age.
At a young age, she began singing alto in the church choir and served as a Sunday school teacher. She was active in the women's ministry at her church, Fellowship Free Will Baptist, and with many youth departments. Glenda worked at the Veterinary Diagnostic Center at Texas A&M University, where she made many wonderful friends. She had also worked at a children's home in Greenville, Tennessee, for a short time.
Glenda graduated from Stephen F. Austin High School in 1963. She attended Free Will Baptist Bible College in Nashville, Tennessee, and was a graduate of McKenzie Business School. She was an avid reader and enjoyed sewing, babies, and animals, but her true passion was for her grandchildren.
She was preceded in death by her father, Rhodes Rice, in 1973.
Her survivors include her husband of 33 years, Jerry Fling of Bryan; a son, Jay Allen Fling of Mary, Louisiana; a daughter, Jo Ellen Fling of Bryan; her mother, Joyce Rice of Bryan; a brother, Ricky E. Rice and his wife Sharon of Missouri City; a sister, Patsy Klunkert and husband Matt of College Station; five grandchildren—Brittany, Ashlie, Baylie, Scooter, and Garrett; and a host of nieces and nephews.
Funeral services were held on December 27 at Hillier Funeral Home, with the Reverends Bill Van Winkle, Don Ellis, and Lynn Wood officiating. Interment was in Bryan City Cemetery.