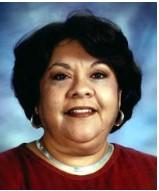 YOLANDA QUINTANA LOPEZ, December 30, 1944—October 5, 2019
Yolanda Q. Lopez, 74, of Bryan, went to be with her Lord and Savior on Saturday, October 5, 2019, surrounded by her family. On Thursday, October 10, 2019, at 11:30 a.m., a Celebration of Life service was held at First Baptist Church of Bryan.
Yolanda was born on December 30, 1944, to Joe and Concha Quintana of Cuero TX. She was the only sister of three brothers: Joe, Victor, and Frank Quintana. The family moved to Bryan when Yolanda was 8 years old. She met her husband, Charles G. Lopez, Jr., while they were attending Bowie elementary school, and after graduating from Stephen F. Austin High School, they married on June 9, 1963, at Premira Iglesia Bautista in Bryan. She and Charlie were married for 56 years and reared three children, five grandchildren, and two great-grandchildren.
Yolanda had a passion for education. She made it a priority in her own life even while she had many family responsibilities at home. She also made it a priority with her own children. She loved education so much that she became a teacher and taught in Bryan ISD for more than 30 years, where she was named Para-Professional of the year in 2004. Yolanda was honored by the Hispanic Forum of Bryan/College Station with the Lifetime Achievement Award in 2000. Most of her career was spent at Johnson Elementary, where she had a significant impact on hundreds of children in her class, as well as on many teachers and administrators with whom she worked.
Many of those with whom she taught admired Yolanda's love of the Lord and her passion for others to know Jesus. She volunteered for many years at El Calvario Baptist Church, where she held the position of Director for the Women's Mission Union, as well as Sunday school teacher. Yolanda also headed up many years of vacation Bible school, visitation, Christmas pageants, and much more. One of her all-time favorite things to do was to serve lunch to the Aggies at the Baptist Student Union. She also volunteered with the Bridge Ministries, teaching ESL, and then became a member of First Baptist Church of Bryan, where she participated in the Spanish Services and visitation.
Yolanda found much joy in spending time with her grandchildren and great-grandchildren. She loved celebrating with her family, whether it be holidays, birthdays, or any special occasions, and was ready to plan out the food for the event. Yolanda loved her Texas Rangers Baseball and Aggie Football. Her family knew that, if at all possible, she would be watching the games and cheering on her teams whenever she could. After being diagnosed with breast cancer in 2016, she found support and offered support to others through the Pink Alliance.
Yolanda was preceded in death by her parents Joe and Concha Quintana, and her brother Victor Quintana. She is survived by her husband Charles Lopez, Jr., their loving children, who include daughter Annette Cortinas and husband Oscar Cortinas, Jr; son Charles G. Lopez III and his wife, Brenda Lopez; son Mark Lopez and his wife, Anjelica Lopez; her brothers Joe Quintana, Frank Quintana his wife Gilda Quintana; and her grandchildren, Megan Cortinas, Maci Willeby and husband Kameron Willeby, Zachary Cortinas and fiancée Didi Carlomagno, Alex Hernandez, Shelli Lopez; and great-grandchildren Aubree Medina and Isaac Cortinas.
Yolanda will always be remembered for her faith in the Lord, her strength in her beliefs, and her dedication to her family. We will miss her dearly and long for the day when we will be able to see her again face to face but until then, we know she is dancing her "happy dance" in Heaven with Jesus, the love of her life.