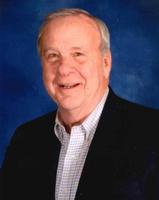 MARVIN MILTON PORTER, JR: November 5, 1944—September 23, 2022
Marvin Milton Porter, Jr., age 77, passed peacefully from this life into the glorious presence of his Lord and Savior, Jesus Christ, on Friday, September 23, 2022, at home in San Antonio TX, surrounded by his beloved family.
He was born in Bryan TX. Marvin grew up in the typical 50's playing football, hunting, fishing, calf roping, camping, and being with Porter cousins and friends. He graduated Stephen F. Austin High School. He attended Texas Tech University on a football scholarship and was a member of the Kappa Sigma fraternity. While at Texas Tech, he met the love of his life, Patti Ann Clouser. He graduated with a degree in agricultural economics. In 1969 he married Patti, and together they had three children, Leslie, Marvin III, and Steve. They lived in Bryan where he was an accomplished farmer and rancher.
He was very involved in Young Life through Texas A&M University and was one of the founding members of Westminster Presbyterian Church. The family moved to San Antonio in 1982, where he was able to focus on his love of the outdoors. He started a manufacturing company focusing on hunting, fishing, camping, and anything outdoors. Marvin was a devoted Christian and continued his service in their local church.
At the age of 70, Marvin was diagnosed with multiple sclerosis (MS). He continued to reflect on God's perfect plan, always striving to live a life that was pleasing to the Lord. Although he was a Red Raider, he was an Aggie at heart. It was fun to watch him when Texas Tech and Texas A&M played each other. Throughout his life his love for westerns and Aggie football was always at the top.
Marvin was preceded in death by his parents and son, Steven Marshall Porter. He is survived by his wife, Patti; his daughter, Leslie Christine Porter Oliver and husband Will, and Marvin Milton Porter, III, and wife Kam; his sisters, Lynn Porter Pitts and Dale Porter Miller and brother-in-law Marshall Clouser. He was a loving and fun "Papa" to his five grandchildren: Kassidy Porter, Marvin Porter IV, Kyndall Porter, Tripp Oliver, and Porter Oliver. His bright smile, sense of humor, storytelling, and laugh will be missed every day.
Two services will be held in his honor. In San Antonino, a celebration of life service will be on Thursday, September 29, 2022, at Wayside Chapel at 11:00 a.m. In Bryan, a graveside service will be held on Saturday, October 1, 2022, at the Bryan City Cemetery at 11:00 a.m. He will be laid to rest by his parents, Marvin and Louise, and son, Steven.
The family would like to thank Greg Hernandez for his devotion, friendship, and caring heart—not only to Marvin, but to the entire family.
In lieu of flowers, a donation may be made to One Way International, San Antonio Food Bank, or The Human Society.
https://www.legacy.com/us/obituaries/sanantonio/name/marvin-porter-obituary?id=36610153