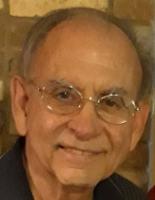 PAUL FRANK PERRONE, January 21, 1946—July 16, 2021
Paul Frank Perrone was born January 21, 1946, to John Marco Perrone and Lula Mae Cuchia Perrone in Bryan TX. He was preceded in death by his father; mother; brothers, Marco Perrone and Johnny Lee Perrone; grandson, Nicholas DuJardin; and stepson, Carl Chavis.
John and Lula were cotton farmers in the area near Bryan known as "The Bottom." Paul and his brothers learned to farm, and they worked hard on their family farm in their youth. Paul was known by his family as "Paul Frank." He attended school in the one room schoolhouse in Steele's Store and graduated from Stephen F. Austin High School in Bryan in 1964.
Paul worked his way through Texas A&M University, graduating in January, 1969, with a BBA and was inducted in the U.S. Army in February, 1969. He served in Viet Nam from 1969—1970 in an artillery division. After returning home from Viet Nam, Paul worked briefly in sales and then started a business providing janitorial staff to local business owners.
Paul and Rosemary Benedetto DiBiase were married in 1971, and Paul became Dad to Rosemary's children, Rosanne and Paul Joseph, whose father had lost his life at a young age. A few years later, Steven Nicholas was born to Paul and Rosemary.
Paul's entrepreneurial abilities provided a comfortable life for his family. Paul and Rosemary's union lasted 23 years, after which they remained good friends and devoted parents to their three children.
In addition to Paul's janitorial business, he also worked as a real estate agent for many years, operated a commercial demolition business, provided commercial and residential concrete contracting services, and later in life operated a lawn maintenance business, all the while continuing to operate his commercial janitorial business. Paul's sons, Paul Joseph and Steven, were often found working with their dad in one or another of his service businesses.
Paul met his wife, Debbie Carroll Bowen, in 2004 when they were both taking lessons to learn square dancing. Paul and Debbie married in 2006. They continued to enjoy their dancing activities and many other shared interests. Through their dancing activities they acquired many wonderful friendships.
Paul was enthusiastically embraced and loved by Debbie's two sons, Carl and Brad, and her extended family, which includes her granddaughter, Kelcee Chavis Henschel, Janet Bowen Ogletree, Jami Bowen Woodward, and their families. Paul and Debbie enjoyed 15 very happy and satisfying years of marriage.
Paul is survived by his wife, Debbie; children, Rosanne DiBiase, Paul DiBiase. and Steven Nicholas Perrone; grandchildren, Dominic Perrone, Benjamin Maurer, Jessica Mayes, Isabella DiBiase, Vincent DiBiase, and Anthony DiBiase; brother, Jack Anthony Perrone and wife Linda; sister-in-law, Sandra Perrone; stepson, Brad Bowen and wife Sonia and their son Alex Evers; step-granddaughter, Kelcee Chavis Henschel; aunt, Mary Perrone; and numerous nieces, nephews and cousins.
A celebration of life reception was held at Rolling Hills Country Club, 401 Lamar Blvd., Arlington TX on Friday, September 24, 2021, with a graveside service at the DFW National Cemetery. Laurel Oaks Funeral Home was honored to serve this family.
https://www.tributearchive.com/obituaries/21805879/paul-frank-perrone