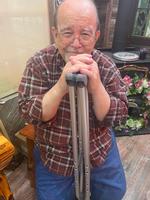 John Wayne Olexey, November 24, 1944—October 10, 2021
John Wayne Olexey, a native of Bryan, passed away on October 10, 2021, at the age of 76, in Bryan. He was preceded in death by his parents Martin and Lottie Mae Olexey, his sister Carolyn, his brothers Richard and Michael Olexey, and James Fridel.
He is survived by his loving wife of 54 years, Judy Langdon Olexey of Bryan; sisters Patricia Olexey and Linda Jones; brothers Bobby Olexey, Kenneth, and sister-in-law Debbie Olexey, Billy Olexey, all of Bryan, and Paul Olexey of Wellborn.
He is lovingly remembered by his son Martin and daughter-in-law Laura Olexey of Bryan, son Eric and daughter-in-law Amanda Olexey of Normanagee, son Adam and daughter-in-law Jennifer Olexey of College Station, and daughter Heather Olexey Lupoli of Bryan.
His other survivors include grandchildren Jeremy Olexey, Taylor Olexey Blincoe, Kane Haynes, Clayton Olexey, Taylor Smith Olexey, Kiana Haynes, Kaleb Haynes, Katelyn Olexey, Victoria Olexey, Walker Olexey, Isabella Lupoli, Samuel Olexey, and Hope Olexey; and great granddaughter, Rowan Blincoe, as well as many nieces, nephews, cousins, brothers/sisters-in law, and beloved friends.
John met Judy while on he was on leave from the Air Force, and after serving in Vietnam for a year, he came home to marry the love of his life. They shared many years of happiness together along with their children and grandchildren. "God first" was a phrase he lived by. He loved sharing his faith and Jesus with others.
We're all deeply saddened by this loss, but we rejoice in knowing that he is resting peacefully with the Lord, whom he loved so very much.
In lieu of funeral services, the family will be hosting a memorial luncheon in John's honor. Date and time to be announced.