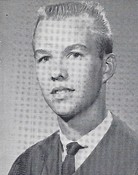 Joaquin William Meiller, October 8, 1945—November 23, 1999.
Joaquin Meiller, 54, passed away on November 23, 1999 at his home in Bryan.
Joaquin was employed with Newman Printing, where he was in commercial sales, and he graduated from Texas A&M University in 1967 with a bachelor's degree in business administration and marketing. He had many sales jobs throughout the country during his career. He was past president of the Bryan Rotary Club and past District Secretary for Rotary District 5910. He worked with Newman Printing and the Bryan Rotary to establish the Newman 10 Business Performance Awards sponsored by the Bryan Rotary Club and the Chamber of Commerce.
His survivors include his wife, Susan Meiller of Bryan; his parents, Ted and Mildred Meiller of Bryan; three brothers, Vaughn Meiller of Seattle WA, Gary Meiller of Huntsville, and Brian Meiller of Austin; his father-in-law and mother-in-law, Bundy and Mable Bratcher of Plainview TX; a brother-in-law and sister-in-law, Dr. Joe and Marty Jopling of Salt Lake City UT; a nephew; and a niece.
Services were held at St. Joseph's Catholic Church in Bryan, the Revs. John McCaffrey and Craig Borchardt officiating. Burial was in Mount Calvary Cemetery.
Memorials may be made to the Joaquin Meiller Bryan High School Scholarship Fund, c/o Bryan Rotary Club, Charity Corporation, P.O. Box 2760, Bryan TX 77805-2760.