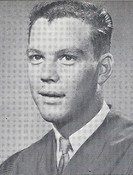 February 27, 1945—April 20, 2010
Billy Don Horn, 65, of Garland, Texas, formerly of Bryan, passed away on April 20, 2010.
He will be remembered as a devoted husband, loving father, and dedicated educator.
Born in Bryan, he graduated from North Texas State University, where he earned a bachelor's degree in education, and later completing his master's degree in education from East Texas State University.
Upon graduation from North Texas State, Bill married Judy Pope, of Dallas, and the two of them settled in Garland, where their son Jake was born. Bill spent the early part of his career as a football coach and teacher at South Garland High School.
Later he became a vice-principal and retired as principal/administrator in the special education department of Garland Independent School District. Throughout his 33-year career with GISD, he was well respected and was a positive influence in the lives of countless young people.
Bill was preceded in death by his wife, Judy Pope Horn, of Dallas, and a brother, Charles Ray Horn, of Wellborn, as well as his parents, Mary S. and Marvin B. Horn, of Bryan.
Survivors include his son, Jake Horn, of Dallas; sister, Joyce Ferguson, of Dallas; and a family of cousins, nieces, and nephews.