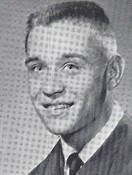 Larry Glenn Gough
October 2, 1945 - April 18, 2007
the following are exerpts from The Eagle obituary for Larry:
"Larry Glen Gough went to heaven on April 18, 2007. Larry was born October 2, 1945 in Bryan and was a resident of Houston for the last 10 years of his life. He was a Vietnam veteran and his life's work was in the automobile industry. Larry was a very special presence and we were all very blessed to have him in our lives. His family was his life. He will be fondly remembered for his sense of humor and his heart of gold."
"Larry was preceded in death by his father, W. G. "Bill" Gough. Survivors include his mother, Dolma Gough Ponzio and husband, Sam; his loving wife, Deborah; their adult children, Bill and wife, Amy, and Heather and husband, Lane; his grandchildren and greatest joys, Katelyn "Katydid," Alyssa "Alyray," Kassie and Kaylee "the Gough boys" and Kennedy "Junebug," as well as a loving family of brothers, sisters, nieces, nephews and many great-nieces and one great-nephew."