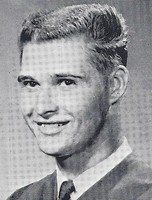 October 10, 1944—February 15, 1980
Gary William Foster, 35, passed away on February 15, 1980, at Wilford Hall Medical Center (WHMC), Lackland Air Force Base, San Antonio, after a lengthy illness and was buried in Restever Cemetery in Bryan. While he was stationed in Germany, his illness was diagnosed, and the Air Force transferred him to WHMC for treatment.
Gary was born on October 10, 1944, in Bossier City, Louisiana, to William H. "Bill" and Maysie Foster, and they moved to Texas when he was very young. He is survived by his parents; his wife, Kay Cox Foster; a daughter, Kristin; a son, Jason; and a brother, Dale Foster, of Bryan.
As a youth, Gary was an active member of First Baptist Church in College Station, and when they married, he and Kay became members of First Baptist Church in Bryan. After high school, he attended Texas A&M University, graduating in 1967 with a degree in accounting and a commission in the U.S. Air Force. After completing navigator training, he served tours of duty in Germany (twice), the Republic of Vietnam, the Pentagon, Idaho, and the United Kingdom.
Gary's family and friends will always remember him as a man of honesty, loyalty, and integrity. Even during his illness, he was optimistic, maintained a great sense of humor, and served as a great inspiration to others suffering from serious illnesses as well. Gary always focused on the positive, never met a stranger, and always treated everyone with dignity, respect, and caring. Gary was a devoted husband and father and a man who loved the Lord. His faith in God, ever so strong, always shone through in all that he did, and it was his faith that carried him through the difficult times.