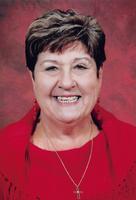 June Marie Eubanks Van Etten: July 9, 1945—November 18, 2022
June Marie Eubanks Van Etten was born on July 9, 1945, in Bryan TX to Nora Lea Barcelona (Wasson) and Charles Truett Eubanks.
June, 77, of Bryan, passed away, surrounded by family and friends, on Friday, November 18, 2022. She is preceded in death by her parents to Nora Lea Barcelona (Wasson) and Charles Truett Eubanks.
She graduated from Stephen F. Austin High School in 1963. She married the love of her life, John Edward Van Etten, in 1969, and together they raised their "one-and-only" son, Clint. As a senior in high school, June began her 60-year career with South Land Title Company, formerly Brazos County Abstract Company.
June's first priorities were her faith and family. She especially cherished her role as mother and Mimi to "her boys." To know June was to love June. She had a vivacious personality, a smile that could brighten a room, and a heart of gold.
June was preceded in death by her husband of 40 years, John; mother, Nora Lea; father, Charles; mother-in-law and father-in-law, Ed & Movelda Maddox; and her twin sister and brother-in-law, Jane and Charles Ebner.
She is survived by her beloved son and daughter-in-law, Clint and Amy Van Etten; grandson, Holt Van Etten and wife Karina; grandson, Hunter Van Etten; sister, Toni Martinez; niece, Nina Montelongo and husband Robby; and nieces Leah and Giana Montelongo. In addition to her family, June will be missed by countless friends and colleagues whom she considered to be family.
Visitation will be from 5:00 to 7:00 pm, Wednesday, November 30, 2022, at the funeral center, followed by the Rosary at 7:00 pm. Cremation services are in the care of Callaway-Jones Funeral and Cremation Centers, Bryan-College Station. In lieu of flowers, donations may be made in June's honor to St. Anthony's Catholic Church.
https://callawayjones.com/archives/obits/june-marie-eubanks-van-etten