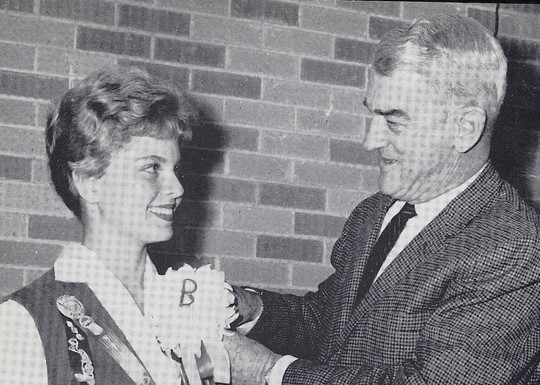 Frances Lee Cunningham Hensley, 50, of Pensacola, Florida, passed away at Bayside Community Hospital in Anahuac, Texas, September 14, 1995, of complications from scleroderma while en route to her home. Crawford Crim Funeral Home of Henderson, Texas, was in charge of arrangements, with burial at Lakewood Memorial Park in Henderson. A memorial service was also held later in Pensacola.
Frances was born January 4, 1945, in Daytona Beach, Florida, to Earl C. and Joy Torbett Cunningham. She was married to Lewis Lee Hensley III of Henderson on January 27, 1968, in Bryan, Texas. She is survived by her husband; their children, Lewis and Joy; and one sister, Darnelle Cunningham Morgan and her husband, Barry Morgan, of Hannibal, Missouri. Frances was preceded in death by her parents and two sisters, Lynne Cunningham and Jocelyn "Jody" Cunningham, all of whom were killed in a place crash in September, 1971.
Graduating from Stephen F. Austin High School in Bryan in 1963, Frances went on to Baylor University, receiving her B.S. degree in 1967. She worked in Dallas for a short period before meeting her husband, a former football player for the University of Texas, who was a banker in Marlin, Texas. Frances taught school in Marlin for a couple of years before her children were born. They lived there until 1973, when they moved to Bryan into the Cunningham family home, and Lee established an insurance business. Frances delighted in being a homemaker and home schooled their children until they reached high school age. At that point, the family moved to Pensacola, Florida, so that their children could attend Pensacola Christian School, and Lee worked for a travel agency.
Frances loved the Lord and enjoyed serving Him as a discussion group leader in Bible Study Fellowship, International, for several years. She was known for her hospitality and used her cooking skills to minister to others. Her kitchen was the source of many blessings as she touched the lives of others and encouraged them in their spiritual growth.
Since her death, both of her children have married, and each has two children. Lewis Lee Hensley IV and wife June of Poulsbo, Washington, have Luke and Olivia. Joy Elizabeth Hensley Sollberger and husband Marc of Melbourne, Australia, have Christian and Francesca.