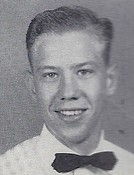 James Lawrence Coody: October 6, 1944—December 17, 2002
James Lawrence Coody, 58, of Richmond, died on December 17, 2002, in a Galveston hospital. Graveside funeral services were held on December 21 at Saints Cyril & Methodius Cemetery in Marak, Texas.

Mr. Coody, a commercial truck driver, was born on October 6, 1944, in Bryan, to James D. and Ann Tomek Coody. He is survived by a daughter, Michelle Kuempel, of Hutto; a brother, Robert Joe Coody, of Boone, North Carolina; and a sister, JoAnn Biskup, of Schertz, Texas.