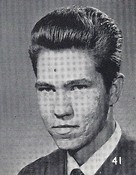 Graveside services were held Monday, August 27, 2007, for Larry Douglas Cardwell, 62, in Bold Springs Cemetery with Dale Snell officiating.
He was born on March 31, 1943, in Bay City, the son of Neil and Nina Byars Cardwell. Mr. Cardwell passed away on Friday, August 24, in Memorial Medical Center, Livingston. His father and his grandparents, Sam Byars, Gladys Byars, and Wanda Lewis preceded him in death.
Survivors include his mother, Nina; sister and brother-in-law, Sherry and Larry Piper of College Station; sister, Teri Conaway of Bryan; aunt, Sybil Rogers of College Station; nephews, Rob Conaway of College Station, Jerry Conaway of Conway, Arkansas, and Nathan Piper and wife, Jean, of Madisonville; and nieces, Kim Conaway of Bryan and Lauren Stephenson and husband, Stan, of College Station.