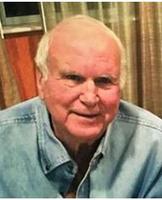 RICHARD EARL BURLESON, JR., April 3, 1945—December 2, 2019
Richard Earl "Dick" Burleson, Jr., 74, of Bryan passed away December 2, 2019. Dick was born April 3, 1945, in Fort Worth TX to Richard Earl Burleson and Nannette Crouse Burleson. He attended Bryan public schools, graduated from Francis Hammond High School in Alexandria VA in 1963, and graduated from Texas A&M University in 1967, where he was a member of the Corps of Cadets and a proud member of the Ross Volunteers.
Upon graduating he was commissioned in the U.S. Army as 2nd lieutenant. His first assignment was to Turkey with a missile unit. While there he was promoted to 1st lieutenant and returned to the United States after two years to complete his active duty assignment. He served in the Army National Guard following his active duty assignment and was promoted to captain during that time.
After returning to the civilian world, Dick began working in the oil and gas industry, which resulted in his family crisscrossing the central part of the nation more than once. He lived as far North as Casper WY and as far South as Zapata TX. As a well-respected salesman he worked for various companies, including time with Weatherford/Lamb, Drilling Tools Inc. and Petco Fishing and Rental Tools. During one if the many downturns of the industry, he started Rebco International, an import/export business. Dick had a deep love for Texas, and his work in the oilfield allowed him to explore the more remote areas of the state and visit the areas that he read of in his vast library regarding Texas history.
He is survived by his sister, Betty Douglass of Falls Church VA; son, Shawn Burleson of New Braunfels; daughter Jill O'Neill of Victoria and her husband Cody O'Neill; son Richard R. Burleson of Nashville TN and his partner Alisha Smith; stepson Cory Hamre of South Jordan UT and his wife Candi Hamre; and stepdaughter Casey Hamre of Schertz and her husband Kelly Brown. He is also survived by nine grandchildren and former wives Karen Hildebrand and Kathy O'Brien.
He was interred alongside his parents, following a graveside service on April 20, 2020, in the Mart TX City Cemetery.
https://www.theeagle.com/obituaries/burleson-richard-dick/article_2135b7c2-44b3-5e4a-bef7-ecd945b16f62.html