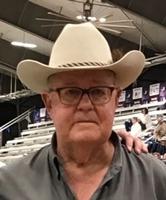 Richard Thomas "Dick" Britten, December 21, 1944—May 30, 2022
Richard T. "Dick" Britten was born in Bryan TX, the oldest son of Walter S. and Pearl Gerke Britten. After a long battle with cancer, he died on Memorial Day, May 30, 2022, at his home on Britten Ranch, surrounded by family.
Dick, a native of Brazos County, started raising cattle when he was 11 years old. For many years he was a professional auctioneer alongside his father, traveling throughout much of Texas. He rarely went anywhere that he didn't run into someone he knew from his ranching and auctioneering businesses. Dick was also a real estate broker for a number of years, predominately buying and selling Texas ranchland. He lived on the Britten Ranch in Brazos County his entire adult life and owned a second home on Lake Limestone for over 40 years. He loved to fish, cook, and work in the yard. He and Debbie enjoyed taking many wonderful trips; his favorite was to South Dakota. He had a great personality, loved a good practical joke, and had a great big belly laugh. Above all, his pride and joy were his family, followed by the rich heritage of the family ranch.
Dick was preceded in death by his parents, Walter S. Britten and Pearl Britten; and his father-in-law, Milton R. Dietzel.
He is survived by his wife, Debbie; son and daughter-in-law, Rick and Dina Britten and their sons, Hunter and Dylan; daughter and son-in-law, D'Anne and Buddy Johnson and their daughter and son-in-law, Kailey and Hunter Cook. He was a proud great-grandpa to Collin Cook. He is also survived by his mother-in-law, Ruby Dietzel; three stepsons and daughters-in-law, Derrick and Kelley McKethan and their children, Taylor and Cooper; Brandon and Wendy McKethan; and Travis and Sabrina McKethan and their sons, Matthew and Samuel; brother, Randy Britten and his wife Elizabeth, and niece Renee Britten and nephew Matthew (Courtney) Britten, and their daughter, Harper. When he and Debbie married in 2007, he added a host of in-laws, including brothers-in-law Rawley (Kathy) Dietzel and Jeff (Dawn) Dietzel, sister-in-law Sandra (Troy) Wacker, and many more nieces and nephews.
A visitation will be held Thursday, June 2, 2022, from 5:00—8:00 p.m. at Hillier of College Station. A memorial service will take place on Friday, June 3, 2022, at 11:00 a.m., also at Hillier of College Station.
Memorials in Dick's memory may be directed to Hospice Brazos Valley, 502 W. 26th Street, Bryan TX 77803 or Mt. Calvary Cemetery Association, 507 E. 26th Street, Bryan TX 77803.
Please visit Dick's tribute page at www.hillierfuneralhome.com to share memories and stories.
https://www.legacy.com/us/obituaries/theeagle/name/richard-britten-obituary?id=34982983