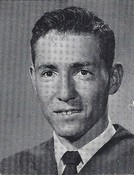 Anthony Bonifazi, 60, was born on June 9, 1943, in Brazos County and passed away on November 27, 2003, in Madisonville. Services were held at Memorial Funeral Chapel in Bryan, with Monsignor John McCaffrey of St. Joseph Catholic Church officiating, and burial was in Mount Calvary Cemetery.
Mr. Bonifazi, a lifelong resident of Bryan, served in the U.S. Army and worked as a carpenter for the Physical Plant at Texas A&M University. He was a member of St. Joseph Catholic Church.
He was preceded in death by his wife, Elizabeth Ann Bonifazi. Survivors include a son and daughter-in-law, Randy and Shirley Rice of Bryan; two daughters and sons-in-law, Katherine and James Henry of Carlos and Carolyn and David Stone of Bryan.