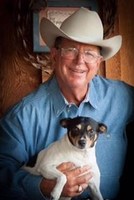 William Michael Ritchey
(March 12, 1945—March 29, 2016)
William Michael Ritchey, beloved husband, father, grandfather, brother, mentor, and friend, passed away on March 29, 2016, at his home in Mason, Texas, at the age of 71. Mike was welcomed into heaven and reunited with the love of his life, Mary Kyle Underwood Ritchey, who preceded him in death on December 13, 2014, and with whom he shared 33 wonderful years.
Mike was born in Dallas, Texas, to Dr. William Howard Ritchey and Mary Woods Ritchey, both of whom preceded him in death. He is survived by daughters Shannon Dezell and her husband, Sean; Jennifer Wofford and her husband, Kurt; and JoLynn Joyce and her husband, Wade Everitt; along with grandchildren Haley Dezell, Hannah Dezell, Heather Dezell, Hudson Dezell, Otto Wofford, and Ivan Wofford. He is also survived by his siblings David Ritchey and wife, Bonnie; Janet Cable and husband, Sam; and George Ritchey and wife, Kay, and many adoring nieces and nephews.
Mike graduated from Stephen F. Austin High School in Bryan, Texas, in 1963 and was also a graduate of the Texas A&M University class of 1967, where he was a member of the Corps of Cadets. He then graduated from Texas A&M College of Veterinary Medicine in 1971. After earning his Doctorate of Veterinary Medicine (DVM) degree, he entered the Air Force as a commissioned officer, where he received the Vietnam Service Medal and the National Defense Service Medal for his service in Vietnam.
Dr. Mike Ritchey was a well-known member of the Huntsville community, where he was the founding partner of Ritchey-Moore Veterinary Clinic. He cherished being able to work alongside Dr. Mickey Moore, taking care of many animals (and their owners) in Walker County. He never met a stranger and developed many wonderful relationships. He was an active supporter of the Walker County Fair and mentored many youth in 4-H, as well as young students who wanted to pursue a career in veterinary medicine.
Following his retirement in 2011, Mike and Mary moved to Mason County and built their dream home on top of the hill, which they named Miracle Ranch, where they enjoyed retired life. He made many wonderful friends and became active in the community as a member of the Lions Club and The River of Life Church.
Mike was a true friend who was known for his gregarious personality; his loyalty to family, friends, and community; and his dedication to his Lord Jesus Christ. He left a lasting impression on all those who met him and will be missed dearly.
A casual gathering will be held at his home in Mason on Thursday, March 31st, at 6:00 pm.
A memorial service will be held at Northside Baptist Church in Huntsville, Texas, on Saturday April 2, 2016, at 10:30 am (address: 1207 FM 980, Huntsville, Texas 77320).
In lieu of flowers, donations can be made to River of Life Church (address: 217 East College Avenue, Mason, Texas 76856), or to Kanakuk Ministries (address: Attn: Crystal Mitchell, 1353 Lakeshore Drive, Branson, Missouri 65616).
Mike's entire family sends a heartfelt thank you to all for your kindness, support, love, and prayers.
To send flowers or a memorial gift to the family of Dr. William Michael "Mike" Ritchey please visit our Sympathy Store.