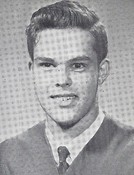 William Thomas Pack, April 3, 1945—April 11, 2016
William Thomas Pack, 71, of Shiloh Community in Robertson County, Texas, passed away on Monday, April 11, 2016, in Austin, Texas. Services are set for 10 a.m. Friday, April 15, at McCauley Funeral Home Chapel. Keith Petteway will officiate. Burial will follow in the Wheelock Cemetery.
Tommy was born on April 3, 1945, in Bryan, Texas, to Norman M. and Dorcas Upricht Pack. He received his master's degree from Sam Houston State University and was employed with Monarch Paper Company for 28 years before his retirement. He had been a resident of Shiloh since 2010, having previously lived in Houston for many years.
Tommy was a member of the Central Baptist Church in College Station. He was preceded in death by his father and grandparents. Survivors include his mother, Dorcas Pack of Shiloh; sister and brother-in-law, Charissa and Darrell French of Shiloh; brother and sister-in-law, Albert C. and Debbie Pack of Kingwood, Texas.