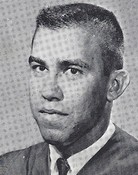 Moses Felipe Herrera, June 21, 1944—September 22, 2017
The Reverend Moses Herrera was born in Bryan to Manuel A. and Guadalupe (Rodriguez) Herrera. One of 10 children, Moses grew up joking around and teasing his brothers and sisters. He was an entrepreneur, selling salves and magazines to make extra money. He enjoyed being grandma's favorite. Before graduating from SFA High School in 1963, he played football and was in the band. He received his Bachelors of Theology from Howard Payne University in 1967 and then went on to get his Masters of Divinity from the Southwestern Baptist Theological Seminary in Fort Worth. He performed missionary work in Juarez, Mexico and went to chaplain school in Houston.
Moses was a kind and compassionate man who was committed to serving the Lord by caring for his people. He pastored four churches: College Avenue Baptist Church in Fort Worth, Centro Cristiano in Fort Worth, Primera Iglesia Bautista Mexicana in Bryan, and also co-founded Christian Faith Baptist Church in Bryan. He also served as chaplain of Stanford Nursing Home in Fort Worth. He was the President of Baptist Youth Congress of Texas. His special calling was working with the immigration and naturalization programs. He taught English classes for naturalization of Mexican-Americans and was the Founder of Chaplain Services, which helped them through the Amnesty Program to receive their citizenship. He enjoyed starting the Health Fair, which serves the community even today with medical exams and school supplies, as well as taking trips around the state of Texas with the elderly to see the fall colors, Christmas lights, and spring flowers.
Moses leaves behind a large family: his twin sister Molly Grimaldo, his sister Betty Martinez, his sister Polly and husband Kenneth Spencer, his brother Manuel and wife Carolina, his brother Andy and wife Julia, and his brother Edward. He will be dearly missed, but he has been reunited with those in heaven: his parents, his sister Eunice, and his brothers, John and Richard.
There will be time to visit and pay respects to the Reverend Herrera from 10-11:00 a.m. on Wednesday, September 27, 2017 with a service to follow immediately at 11:00, both at Hillier Funeral Home of Bryan. Interment will be at Restever Cemetery.