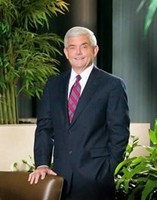 John Franklin Ferguson (December 25, 1944—June 11, 2015)
On Thursday, June 11, 2015, John Franklin Ferguson, 70, went to be with his Lord. He was at his home in Plano TX, surrounded by his family. He was born in Palacios TX, the second son of Dr. Thomas M. Ferguson and Grace E. (Barnett) Ferguson. He received his BS from Texas A&M University.
In 1965 he married Carol Ann Rogers at First Baptist Church in Hearne TX. They had six children.
Mr. Ferguson's life of service touched many people. He provided investment, insurance, and retirement planning services to his clients since 1967. He was an active member of the North Dallas Chamber of Commerce, serving as Chairman of the Board in 2007. Most recently, John served as a deacon and Sunday School Teacher at Prestonwood Baptist Church in Plano TX. His true passion was studying and teaching God's word, with emphasis on the Gospel of Jesus Christ. His favorite pastimes were his family, his yard, grilling, ice cream, and M&Ms.
John never missed an opportunity to help others—volunteering his time and financial knowledge to those in his life who needed it; ministering to prisoners, the sick, the poor, and anyone who came to him. He had an inspiring love for and devotion to the Lord Jesus Christ, which he passed on to his family, friends, and to just about anyone with whom he came in contact. John was a giver—food to the hungry and even the coat off his back to the poor and homeless—freely, quietly, and without fanfare—giving to those in need whose paths crossed his.
He was a loving husband to Carol, a devoted dad to six children, and a doting "Papa John" to fourteen grandchildren. Survivors include his daughter Holly; son John and his wife Reba and their three children Jeremy, John, and Marisa; daughter Melissa and her husband Todd and their five children Talon, Brad, Benjamin, Tori, and Abby; daughter Robin and her husband Matt and their three children Andrew, Scott, and Rachel; and daughter Brooke and her husband Jay and their three children Maddy, Zoe ,and Lincoln. He was preceded in death by their daughter Brittany. Above all, John would like to be remembered as a beloved son of God and faithful servant and friend of our Lord Jesus Christ.
Visitation is scheduled from 2:00–4:00 p.m. on Sunday, June 14, 2015 at Ted Dickey West Funeral Home. Services will be held at 10:00 a.m. on Monday, June 15 at Prestonwood Baptist Church in Plano with Rev. Jeff Young presiding. A private burial will occur following the service.
Donations in John's memory can be made to the Prestonwood Pregnancy Center (www.prestonwoodpregnancy.org) or Prestonwood Network (www.prestonwoodnetwork.org). Messages to the family may be entered in the guest book of the funeral home website (http://obits.dignitymemorial.com/dignity-memorial/obituary.aspx?n=John-Ferguson&lc=4270&pid=175060434&mid=6479974).