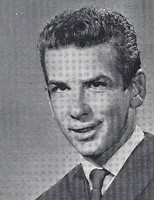 May 24, 1945 ~ September 29, 2010
Mr. John Louis Bruns, 65, passed away on September 29, 2010, at his home in Copperas Cove, Texas.
John was born May 24, 1945, in Daytona, Florida, to Mr. and Mrs. Charles Bruns. He joined the U.S. Marines after graduating from high school. After attending Texas A&M University, he joined the U.S. Army and has been employed with General Dynamics since his retirement from the Army.
Mr. Bruns was preceded in death by his parents and a sister, Nelda.
Survivors include his wife, Sigrid Bruns; a son Daniel Bruns, both of Copperas Cove; five step children—Marilynn, Eddie, Katherine, Robert, and Doreen; a brother, James Bruns of San Antonio; 13 grandchildren, and four great grandchildren, including one that is almost here.